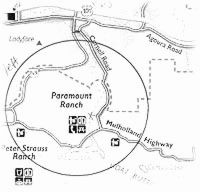 You need to take hwy 405, 134 or whatever else you can take going north to the Ventura freeway, hwy 101 west. Take hwy 101 west to Kanan Rd. At the stop light turn left and go across the hwy over-pass. Go straight, through the light (you are still on Kanan Rd)
Click Here for larger view
(Download time 15 sec - 56K)
Cornell Rd. will be on your left immediately after you cross Agoura Rd. Turn left and veer to the right. Go down Cornell Raod approx 2.5 miles.
Entrance is on the right hand side. There is plenty of parking and when you walk across the bridge, it's Magical!
You are now in Colorado Springs.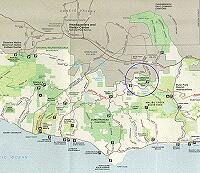 Directions from LAX to the Goodnite Inn in Calabasas and from the Inn to the P-Ranch

When you exit the airport, stay straight on Century Blvd. East to the 405 North Freeway. Take 405 North to the 101 West Freeway toward Ventura. Stay on 101 West until you see the Las Virginas exit. Turn left off the exit ramp back over the freeway. Turn right onto Agoura Road and the Goodnite Inn will be on your right.

The beautiful drive to the P-Ranch is very easy from the Goodnite Inn. Go back to Las Virgenes Road and go right. Continue for several miles until you come to Mulholland Drive and turn right. (BTW, going straight will take you through the canyon to the ocean.) Continue on Mulholland through part of the Malibu State Park. When you get to the 4-way stop - Cornell Road - take a right. The entrance to Paramount Ranch will be on your left just over the first hill. A sign is posted.

Or, you can turn right from the parking lot of the Goodnite Inn and continue down Agoura Rd. until you intersect with Kanan Dume Rd. Turn left at the traffic light and take the very next left onto Cornell Rd. Follow this around and past the homes until you go around a sharp curve around to the left -- approx. 2.5 miles. The entrance to Paramount Ranch will be on your right. A sign is posted.

Directions to the 405 Freeway from all rental companies at LAX

Continue East-bound on Century Blvd. As you approach La Cienega Blvd move into the *3rd* lane from the right. (The 2 far right lanes will force you to turn right onto La Cienega toward the entrance for the Southbound 405 freeway. This is fine if you're looking to check out the Queen Mary or the volleyball tournaments in Manhattan Beach, but not if you're aiming for Calabassas/Agoura Hills.) After crossing La Cienega you want to be in the far right hand lane. You will pass underneath the 405 overpass bridge before coming to the on-ramp for Northbound 405. Follow directions from LAX to Goodnite Inn above.

Map of Agoura Hills