Josef Quinn Memorial Library
Paramount Ranch and Malibu Creek State Park Maps
---
---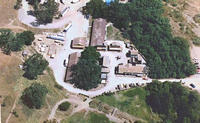 Western Town Aerial View
For those of you who may venture out to the P-Ranch or to Malibu Creek State Park, the following maps may come in handy.
Although the P-Ranch's Western Town is no longer used for Dr. Quinn filming, the Western Town still exists, and the spirit of Dr. Quinn remains.
Despite the changes, the framework of the original town is still there, and you can still find the remnants or the areas where various buildings from Colorado Springs (c. 1870) were once located.
The maps below are numbered according to how they go together. Map 1 goes on top, with map 2 and 3 joining from the bottoms of the previous map. Map 4 is a standalone for now, but there may be other maps of Malibu Creek State Park coming later. You can view the full size image by clicking on the thumbnail below. For printing, these maps were scanned at 300dpi but resized to fit your screen. If you wish to print out a full size, please contact us.
| | | | |
| --- | --- | --- | --- |
| 1 - Homestead | 2 - Main Town | 3 - Parking Lot | 4 - Malibu Creek State Park |
| | | | |
| --- | --- | --- | --- |
| 1 | | | 2 |
| 3 | | | 4 |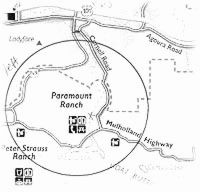 You need to take hwy 405, 134 or whatever else you can take going north to the Ventura freeway, hwy 101 west. Take hwy 101 west to Kanan Rd. At the stop light turn left and go across the hwy over-pass. Go straight, through the light (you are still on Kanan Rd)
Click Here for larger view
(Download time 15 sec - 56K)
Cornell Rd. will be on your left immediately after you cross Agoura Rd. Turn left and veer to the right. Go down Cornell Raod approx 2.5 miles.
Entrance is on the right hand side. There is plenty of parking and when you walk across the bridge, it's Magical!
You are now in Colorado Springs.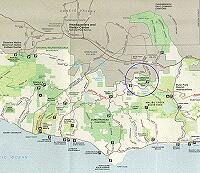 Directions from LAX to the Goodnite Inn in Calabasas and from the Inn to the P-Ranch

When you exit the airport, stay straight on Century Blvd. East to the 405 North Freeway. Take 405 North to the 101 West Freeway toward Ventura. Stay on 101 West until you see the Las Virginas exit. Turn left off the exit ramp back over the freeway. Turn right onto Agoura Road and the Goodnite Inn will be on your right.

The beautiful drive to the P-Ranch is very easy from the Goodnite Inn. Go back to Las Virgenes Road and go right. Continue for several miles until you come to Mulholland Drive and turn right. (BTW, going straight will take you through the canyon to the ocean.) Continue on Mulholland through part of the Malibu State Park. When you get to the 4-way stop - Cornell Road - take a right. The entrance to Paramount Ranch will be on your left just over the first hill. A sign is posted.

Or, you can turn right from the parking lot of the Goodnite Inn and continue down Agoura Rd. until you intersect with Kanan Dume Rd. Turn left at the traffic light and take the very next left onto Cornell Rd. Follow this around and past the homes until you go around a sharp curve around to the left -- approx. 2.5 miles. The entrance to Paramount Ranch will be on your right. A sign is posted.

Directions to the 405 Freeway from all rental companies at LAX

Continue East-bound on Century Blvd. As you approach La Cienega Blvd move into the *3rd* lane from the right. (The 2 far right lanes will force you to turn right onto La Cienega toward the entrance for the Southbound 405 freeway. This is fine if you're looking to check out the Queen Mary or the volleyball tournaments in Manhattan Beach, but not if you're aiming for Calabassas/Agoura Hills.) After crossing La Cienega you want to be in the far right hand lane. You will pass underneath the 405 overpass bridge before coming to the on-ramp for Northbound 405. Follow directions from LAX to Goodnite Inn above.

Map of Agoura Hills