In the mists of swirling nighttime fog, Hank looks like the Grim Reaper, obscured in a dark cloak and hood. In the scene's climactic moment, he tosses back his hood and cackles as the light finally illuminates him.
The hood was costumer Ingle's idea. She figures, "It's fifty-fifty, balancing the character with the styles of the times. Would [the character] be in compliance with the norm or rebellious [i.e., Sully in buckskins]?" Ingle points out that mountain man Sully (Dr. Quinn's husband), "identifies with the Indian population. He's had tragic things happen to him, and he's found some peace from their culture. He used to wear moccasins, "but since he married and moved into the homestead "he's wearing lace-up boots." However, Sully hasn't given up his trademark leather buckskin pants. He's got two styles, with 6-10 pairs of each.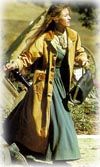 Dr. Quinn's attire is also a blend of functional Western wear with personal touches. Winter finds her sporting one of three cowboy dusters - the showiest is copper-colored suede with lacing, another is canvas, the third is leather.
"At the clinic, she wears cotton prairie dresses, or button-down shirts with skirts. Her dresses are usually a little nicer than the other townsfolk. She grew up considering fashion," reasons Ingle. "For her, I tend to use blues, greens, peaches and rusts. She has one green eye and one brown eye."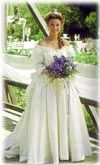 For the episodes set in Boston and Washington, D.C., Ingle goes all out: Ball gowns of silk taffeta and satin are created with fitted waists, cone-shaped bustles and low-cut décolletages. For the wedding episode, she drew 30 sketches alone for the wedding dress, finally creating a skirt and bodice-bustier dress of Dupion silk embroidered with pearls. Such finery could never be bought at Bray's Mercantile, of course, which is why the story line made a point of mentioning that Michaela's mother had to ship the fabric from Boston. Yet the rough-and-tumble town is becoming more cultivated with each passing year.