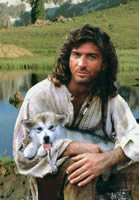 Joe's rugged yet tender looks have brought him fame, but getting he is now wasn't easy, and like most actors he had to pay his dues - in Joe's case, this meant working as a cook on location for sevens years.
©Peter Kredenser
Hello Magazine 3/23/96
by Annia Bulier
Millions of fans across the world followed Sully's romance with Dr.Quinn in the hugely popular TV series Dr.Quinn Medicine Woman but it's not generally known that in real life, actor Joe Lando, who plays Sully, was smitten with the star of the show, Jane Seymour.
As their on-screen romance in the rugged setting of the Wild West blossomed and flourished into marrigae and the beginning of a family, few suspected that Joe would have liked it all to be coming true off screen, as he admits:
"I'd always liked Jane Seymour as an actress, but when we met to begin filming in 1992, I fell madly in love with her. Sadly, Jane didn't feel the same way about me, and another thing was that just about that time James Keach (her present husband) appeared in her life and stole her away from me. It didn't go beyond platonic love. We're all very good friends now."
So you would have liked to have been the father of her children in real life?
"If only it could have worked out like that! I just die of envy whenever I see Jane with her twins in her arms. I love children and I can see myself with a big family in the future—something she's already achieved."
Thanks to Dr.Quinn, Joe Lando's rugged yet tender looks are admired all over the world these days, but getting a foot on the ladder to success wasn't that easy. At 18, Joe left his native Chicago and went to Los Angeles, where he earned his living as a cook, working mainly for companies catering on film locations. That's where he first came into contact with his real vocation, acting.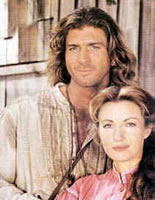 ©Peter Kredenser
Joe, are you a good cook?
"My speciality is Italian cooking, but for seven years, I cooked all different kinds of food. The fact is that when people are filming, they want more than quality. There were times when we had to feed 700 people on the set in a single day. But the cooking wasn't as important to me as watching everything that went on around me. As soon as the meals were over, I'd slip off to watch the run-throughs, the filming—I was interested in it all, from the director's comments to the work the technicians did."
That consuming interest drove him to acting classes, fitting them around his job in a restaurant six nights a week.
"It was exhausting, because I hardly had time to sleep between the classes and my job. Of course I stopped going out with my friends or doing any of those things you do at twenty-something."
But you got your reward?
"That's right. It took me three years to get a part in a soap opera, which was the first thing I did. I got it after going to about a million castings, because I didn't know anyone in the world of entertainment who could lend me a hand. I went to New York with that first job to do some scenes and ended up staying there for two years."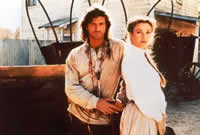 Joe as Sully on the worldwide hit series Dr.Quinn Medicine Woman with Jane Seymour. Little did viewers know that Joe would have liked their on-screen romance to be for real. The actor has a girlfriend now but protects her carefully from publicity. He lives with his parrot Bob and his dog Rosie.
©Peter Kredenser
And how did you get the part of Sully in Dr.Quinn?
"In fact, it was the producers who suggested it to me. We did a test, they gave me the part and we've already made four seasons."
Has fame changed you at all?
"I've had to fight a lot and I'm proud of having got where I am without any kind of help. I've done it all on my own through hard work and trying. Being famous hasn't affected me as a person at all. My friends all say I'm the same as I ever was."
Now he lives with his dog Rosie and parrot Bob. He love fast cars and goes to see his New Zealand girlfriend—who's a jealously guarded secret—whenever he can.
"I don't like to talk about my private life. I prefer to be known for my work and not to use my fame for promote anything else—I don't talk about politics. I only use my fame to help in campaigns on behalf of children with AIDS."