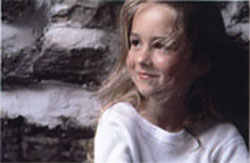 Sara played Katie Sully on DQ: The Heart Within.
© Used with permission
Sara McRae is Success Story Number: 3050 at Angie's Models and Talent!
Sara Joeline McRae has enjoyed a variety of roles since being discovered at Angie's Models and Talent open call in August of 1999. Sara debuted at the age of 6 in her first commercial "Mystic Aquarium", followed quickly by a role in the two-part television movie, "Jackie O: A life". Her breakthrough was as Katie Sully, in the 2001 CBS made-for-television movie, "Dr. Quinn: Medicine Woman - The Heart Within". A "straight A" student in school, Sara understands the importance of education and how it relates to her goal of becoming a professional actor. Sara's inquisitive and charming personality enable her to work well with directors, actors, and other professionals in the industry.
Sara was thrilled to win "Best Actress in a TV Film" and "Best Actress in a TV Series," at Angie's "Night at the Oscars" 2001 Model and Talent Showcase and to be chosen by Pamela Edwards of Talent Express to attend the Talent Express 2001 Showcase at Universal Studios in Los Angeles. Along with acting, Sara's other interests include modeling, swimming, biking, and reading.
Recent Work: National TV Commercial "Cable One" (2002); TV/FILM: Dr. Quinn Medicine Woman: The Heart Within (principal role-"Katie Sully" daughter of Jane Seymour and Joe Lando; 2001); Jackie O: A Life - "Rose Schlossberg"; Featured in "University" TV series due out next year
TV Commercial: Mystic Aquarium commercial - Lead with wall-to-wall dialogue
Commercial Print: Bonny's 2002 & 2003 Wedding catalogue. Burlington Coat Factory - Fall Campaign (2001); Antibiotic Ad for NIPA/Pfizer - shown in Today's Parent and Chatelaine magazines.